Shortlist 2018
PRINT
Louisa Loveluck & Susan Haidamous – 'Syria, a love story", The Washington Post
Louisa Loveluck is a Beirut-based Middle East Correspondent for the Washington Post covering Syria and the wider region. She previously worked as The Daily Telegraph's Cairo correspondent, reporting on the fallout from the 2011 Egyptian uprising and the state-led crackdown that followed.
Suzan Haidamous is a Washington Post reporter based in Beirut. She was previously a television anchor for the Lebanese Télé Liban, and has also contributed to outlets including the Sydney Morning Herald, Newsweek and ABC Australia.
Christina Goldbaum – 'Strong evidence that U.S. Special Operations Forces massacred civilians in Somalia', The Daily Beast
Christina Goldbaum is an independent reporter and producer based in Kenya and Somalia. She works in print, still photography and television covering human rights, humanitarian crises and conflict. Her print bylines include the New York Times, Foreign Policy Magazine, the Economist and the Wall Street Journal and has shot news segments and documentaries for PBS NewsHour, VICE, Al Jazeera and others.
Sally Hayden & Ziad Ghandour – 'Road to Damascus: the Syrian refugees who want to go home', The Irish Times
Sally Hayden is a writer and photographer that currently focuses on migration, conflict and humanitarian crises. She has worked with an extensive range of news organisation including CNN International, the Guardian, the Sunday Times, Newsweek, BBC, the Washington Post and the Irish Times.
Ziad Ghandour is a Syrian journalist based in the UK since 2015 who works as a documentary researcher with BBC Arabic. He worked for the not-for-profit investigative organisation Airwars, tracking air strikes in Iraq and Syria.
Special Mention:
Carole Cadwalladr – 'Cambridge Analytica', Guardian/Observer
Carole Cadwalladr is a features writer for the Observer and formerly worked for the Daily Telegraph. Her outstanding investigations into Brexit malpractice have had particular impact in Britain this year.
BROADCAST
Evan Williams & Patrick Wells – 'Myanmar's Killing Fields', Channel 4 Dispatches
Evan Williams is a TV news and current affairs reporter, presenter and producer with 20 years experience covering some the world's most difficult countries, including Burma, Zimbabwe, West Papua, Iraq, the Middle East and Central Asia. He has worked for SBS, ABC Australia, Channel 4 News and others.
Patrick Wells is a London-based documentary producer/director working mostly for Channel 4, PBS and the BBC. Over the last 10 years, he has made character-led and investigative films in some of the world's most challenging environments, including Syria, Iraq, Libya, Yemen, Venezuela, Mexico and Myanmar.
Deeyah Khan – 'White Right:Meeting the Enemy', ITV
Deeyah Khan makes documentaries which explore the social and psychological tensions of modern, multicultural societies. Her debut documentary Banaz covered the dynamics of so-called 'honour'-based violence. This was followed by documentaries exploring Islamist extremism and the ex-Muslim movement. Her most recent film White Right: Meeting the Enemy is a courageous encounter with white supremacists in Trump's America.
Olivier Sarbil & James Jones – 'The fight for Mosul', Channel 4
Olivier Sarbil is a French documentary director and cinematographer based in London. Over the past decade, Olivier has covered conflicts and critical social issues across Asia, the Middle East, Africa and Europe.
James Jones is a British director who makes films for international television and theatrical release. His films have covered countries like North Korea, Saudi Arabia, Iraq, and, most recently the Philippines for a feature documentary about the drugs war that he is making with Olivier.
PHOTOJOURNALISM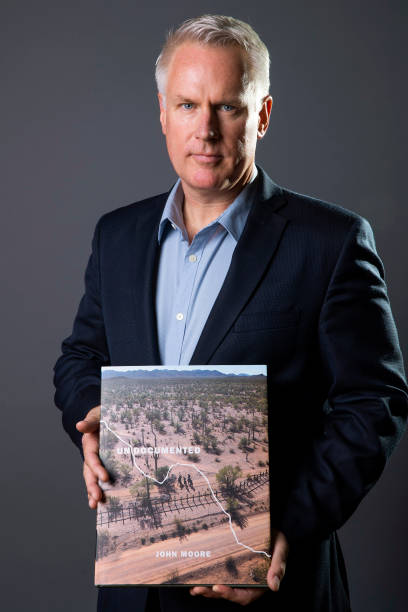 John Moore – 'Undocumented', Getty
John Moore is currently a New York based staff photographer for Getty Images. He worked for 20 years as a freelance photographer taking pictures of actors, musicians, politicians and a range of interesting people.
Khalil Hamra – 'Gaza protests driven by desperation', AP
Khalil Hamra is a Palestinian photographer born in Kuwait who works for the AP. He made the news himself when he was injured while documenting demonstrations in Tahrir Square during the 2011 Egyptian revolution.